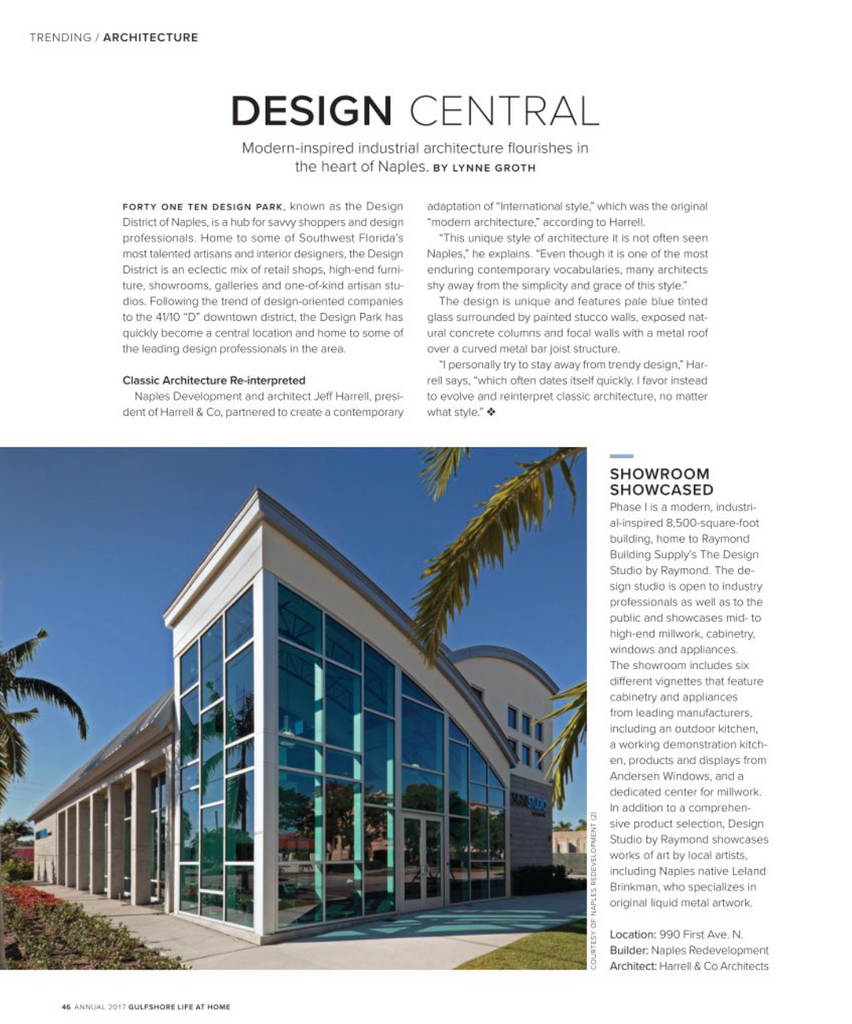 DESIGN CENTRAL
Modern-inspired industrial architecture flourishes in
the heart of Naples. BY LYNNE GROTH
FORTY-ONE TEN DESIGN PARK, known as the Design
District of Naples a hub for savvy shoppers and design
professionals. Home to some of Southwest Florida's
most talented artisans and interior designers, the Design District is an electric mix of retail shops, high-end furniture, showrooms. galleries and one-of-kind artisan studios.
Following the trend of design oriented companies
to the 41/10 "D"  downtown district, the Design Park has
quickly become a central location and home to some of
the leading design professionals in the area.


Classic Architecture Re-interpreted
Naples Development and architect Jeff Harrell president
of Harrell & Co, partnered to create a contemporary adaptation of international style which was the original modern architecture, according to Harrell. This unique style of architecture is not often seen in Naples, he explains. "Even though one of the most
enduring contemporary vocabularies many architects
shy away from the simplicity and grace of this style
The design Is unique and features pale blue-tinted
glass surrounded by painted stucco waits. exposed natural concrete columns and focal walls with a metal roof
over a curved metal bar Joist structure
I personally try to stay away from trendy design Harrel says. "which often dates itself quickly. I favor Instead
to evolve and reinterpret classic architecture, no matter
what style."