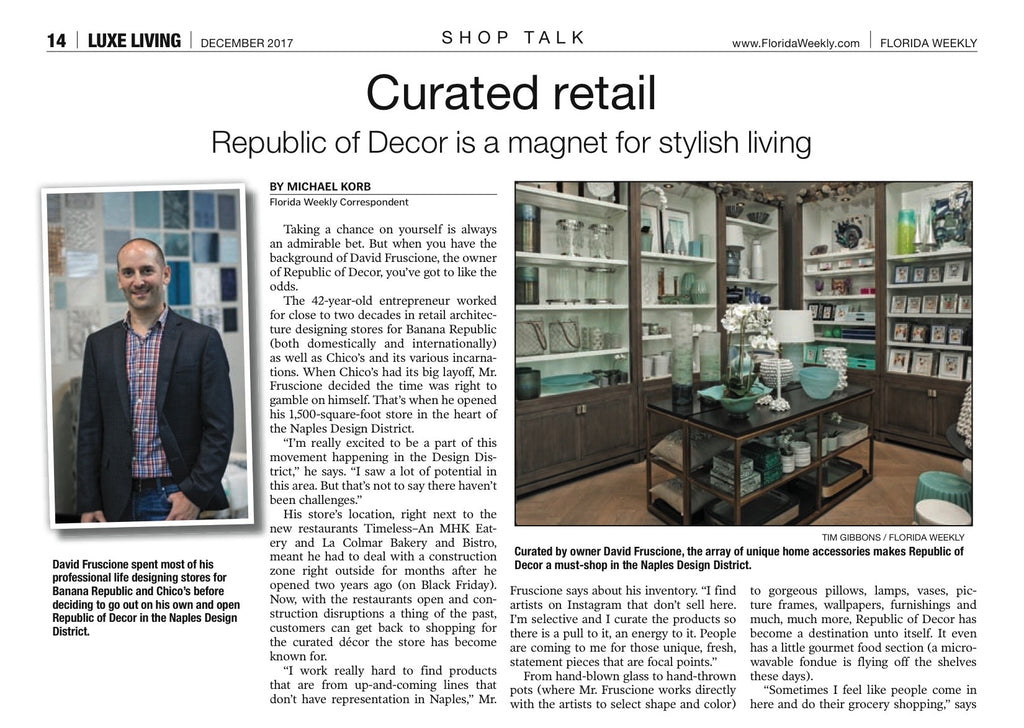 Curated retail
Republic of Decor is a magnet for stylish living
BY MICHAEL KORB
Florida Weekly Correspondent
Taking a chance on yourself is always an admirable bet. But when you have the background of David Fruscione, the owner of Republic of Decor, you've got to like the odds. The 42-year-old entrepreneur worked for close to two decades in retail architecture designing stores for Banana Republic (both domestically and internationally)
as well as Chico's and its various incarnations. When Chico's had its big layoff, Mr. Fruscione decided the time was right to gamble on himself. That's when he opened his 1,500-square-foot store in the heart of the Naples Design District. "I'm really excited to be a part of this movement happening in the Design District," he says. "I saw a lot of potential in this area. But that's not to say there haven't
been challenges." His store's location, right next to the new restaurants Timeless-An MHK Eatery and La Colmar Bakery and Bistro, meant he had to deal with a construction zone right outside for months after he opened two years ago (on Black Friday). Now, with the restaurants open and construction disruptions a thing of the past, customers can get back to shopping for the curated decor the store has become known for. "I work really hard to find products
that are from up-and-coming lines that don't have representation in Naples," Mr.Fruscione says about his inventory. "I find artists on Instagram that don't sell here. I'm selective and I curate the products so there is a pull to it, an energy to it. People are coming to me for those unique, fresh, statement pieces that are focal points." From hand-blown glass to hand-thrown pots (where Mr. Fruscione works directly
with the artists to select shape and color) to gorgeous pillows, lamps, vases, picture frames, wallpapers, furnishings, and
much, much more, Republic of Decor has become a destination unto itself. It even has a little gourmet food section (a microwavable
fondue is flying off the shelves these days). "Sometimes I feel like people come in here and do their grocery shopping,"