Gulf Coast Design + Decor Feature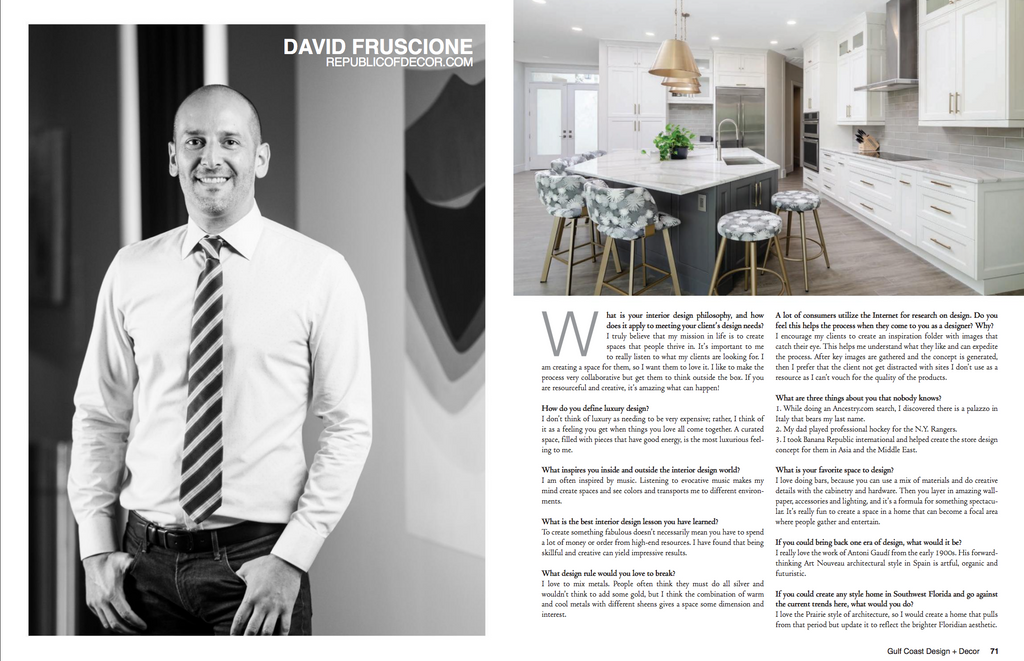 What is your interior design philosophy, and how does it apply to meeting your client's design needs?
I truly believe that my mission in life is to create spaces that people thrive in. It's important to me to listen to what my clients are looking for. I am creating a space for them, so I want them to love it. I like to make the process very collaborative but get them to think outside the box. If you are resourceful and creative, it's amazing what can happen!
How do you define luxury design?
I don't think of luxury as needing to be very expensive; rather, I think of it as a feeling you get when things you love all come together. A curated space, filled with pieces that have good energy, is the most luxurious feel­ing to me.
What inspires you inside and outside the interior design world?
I am often inspired by music. Listening to evocative music makes my mind create spaces and see colors and transports me to different environ­ments.
What is the best interior design lesson you have learned? 
To create something fabulous doesn't necessarily mean you have to spend a lot of money or order from high-end resources. I have found that being skillful and creative can yield impressive results.
What design rule would you love to break?
I love to mix metals. People often think they must do all silver and
wouldn't think to add some gold, but I think the combination of warm
and cool metals with different sheens gives a space some dimension and interest.
A lot of consumers utilize the Internet for research on design. Do you feel this helps the process when they come to you as a designer? Why?
I encourage my clients to create an inspiration folder with images that catch their eye. This helps me understand what they like and can expedite the process. After key images are gathered and the concept is generated, then I prefer that the client not get distracted with sites I don't use as a resource as I can't vouch for the quality of the products.
What are three things about you that nobody knows?
I. While doing an Ancestry.com search, i discovered there is a palazzo in Italy that bears my last name.
2. My dad played professional hockey for the N.Y. Rangers.
3. I took Banana Republic international and helped create the store design concept for them in Asia and the Middle East.
What is your favorite spare to design?
I love doing bars, because you can use a mix of materials and do creative details with the cabinetry and hardware. Then you Layer in amazing wallpaper, accessories and Lighting, and it's a formula for something spectacular. It's really fun to create a space in a home that can become a focal area where people gather and entertain.
If you could bring back one era of design, what would it be?
 
I really love the work of Antoni Gaudi from the early 1900s. His forwardchinking
Art Nouveau architectural scyle in Spain is artful, organic and
futuristic.
If you could create any style home in Southwest Florida and go against the current trends here, what would you do?
I love the Prairie scyle of architecture, so I would create a home that pulls from that period but update it to reflect the brighter Floridian aesthetic.