Old Naples Living Feature Feb 2016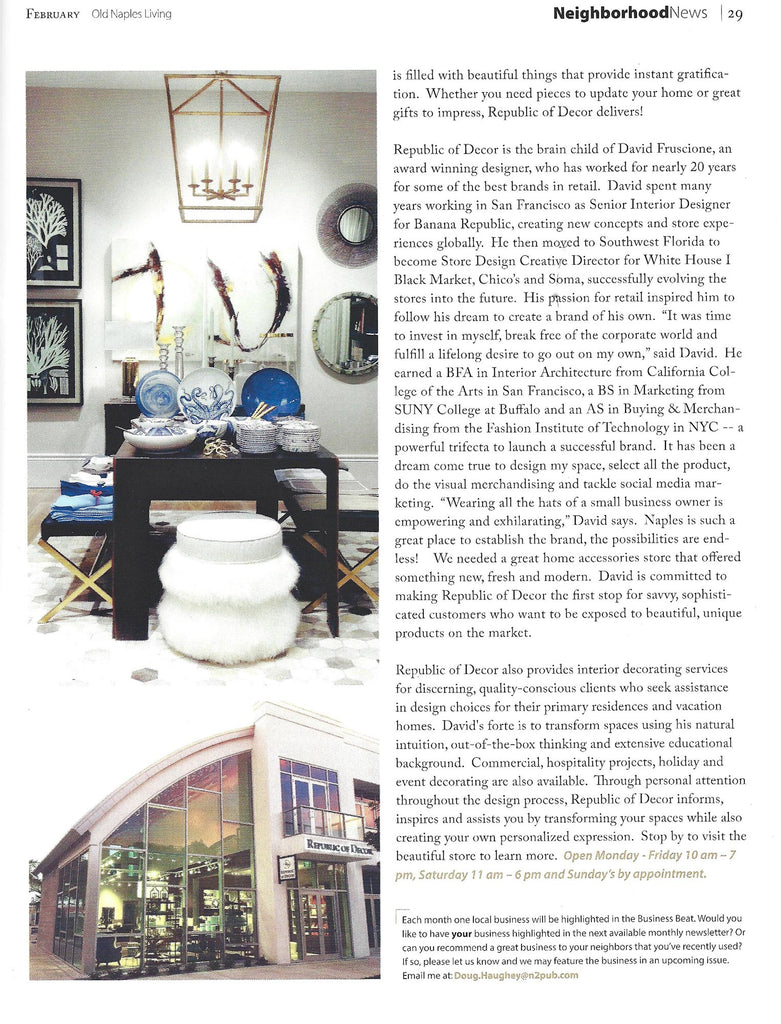 The store is filled with beautiful things that provide instant gratification. Whether you need pieces to update your home or great gifts to impress, Republic of Decor delivers!
Republic of Decor is the brainchild of David Fruscione, an
award winning designer, who has worked for nearly 20 years
for some of the best brands in retail. David spent many
years working in San Francisco as Senior Interior Designer
for Banana Republic, creating new concepts and store experiences
globally. He then moved to Southwest Florida to
become Store Designer Creative director for White House I
Black Market, Chico's and soma successfully evolving the
stores into the future. His passion for retail inspired him to
follow his dream to create a brand of his own. "It was time
to invest in myself, break free of the corporate world and
fulfill a lifelong desire to go out on my own," said David He
earned a BFA in Interior Architecture from California College
of the Arts in San Francisco, a BS in Marketing from
SUNY College at Buffalo and an AS in Buying & Merchandising
from the Fashion Institute of Technology in NYC -- a
powerful trifecta to launch a successful brand. lt has been a
dream come true to design my space, select all the product,
do the visual merchandising and tackle social media marketing
"Wearing all the hats of a small business owner is
empowering and exhilarating," David says. Naples is such a
great place to establish the brand, the possibilities are endless!
We needed a great home accessories store that offered
something new, fresh and modern. David is committed to
making Republic of Decor the first stop for savvy, sophisticated
customers who want to be exposed to beautiful unique
products on the market
Republic of Decor also provides interior decorating services
for discerning, quality conscious clients who seek assistance
in design choices for their primary residences and vacation
homes. David's forte is to transform spaces using his natural
intuition, out-of-the-box thinking and extensive educational
background. Commercial, hospitality projects, holiday and
event decorating are also available. Through personal attention 
throughout the design process, Republic of Decor informs,
inspires and assists you by transforming your spaces while also
creating your own personalized expression . Stop by to visit the
beautiful store to learn more. Open Monday - Friday 10 am 7
pm Saturday 11 am ·- 6 pm and Sundays by appointment.